Our vertical storage systems: Order 4.0
In combination with the newly installed exit gate we establish at the same time a more efficient work flow. Therefor we operate f.e. in zones for the commisioning. That means the six LogiMATs build two zones and the cantilever rack and the heavy-load sector also devided in zones.


Every storage lift has its own monitor. These touchscreens show the storing and removal orders of our ERP system oxaion. PDA devices provide a gapless connection of the different areas as interface, so that important data can be also accessed at other positions in the hall.

So far we needed in the hall a storage space of round about 330 m². The storage lifts occupie only 77,5 m². The vacant space offers us now completely new possibillities, so we can switch preferably for example bulky constructions.

In the first step 11.000 articles are relocated. For this we work in two shifts and we use also the weekends. A shorttime extra burden, that will surely have a positive lasting effect in the end for all participants.
However, it is no paternoster system
Some say spontaneously: "I already know that. It is a well-known system –just automated." Because in other companies is warehousing in paternoster shelves still familiar. Thereby the shelves rotate automatically in circles until the tray with the chosen content reached its output position. The outside look of our new high bay warehouse is indeed similar, but it works on the inside more like connected elevator shafts, that shunt upward and sideways.
So if you want to describe our new vertical storage system in a brief way, than the term "automated high-rack warehouse" fits better.


The advantages of the systems recapped:
space saving
ergonomic acceess options
high pick rates
reduction of operating errors and an optimal picking accuracy
optimization based on lean management: integration of the storage lifts in the needs-oriented material procurement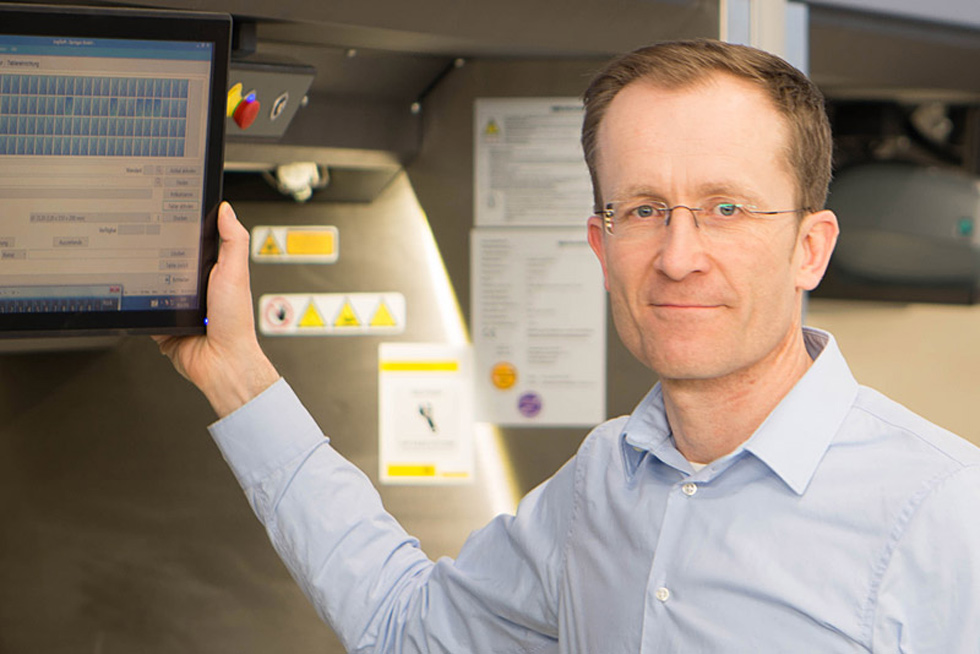 Project manager: Michael Denzin
"With automatic accounting and without media disruption entering the era of order 4.0."